Holy basil Thai
Establishment and food at 1/66 Maroondah Highway, Croydon, VIC 3136, Australia. Here you will find detailed information about Holy basil Thai: address, phone, fax, opening hours, customer reviews, photos, directions and more.
Opening hours
| | |
| --- | --- |
| Sunday | 05:30pm — 09:30pm |
| Monday | 05:30pm — 09:30pm |
| Tuesday | 05:30pm — 09:30pm |
| Wednesday | 05:30pm — 09:30pm |
| Thursday | 05:30pm — 09:30pm |
| Friday | 05:30pm — 09:30pm |
| Saturday | 05:30pm — 09:30pm |
Photos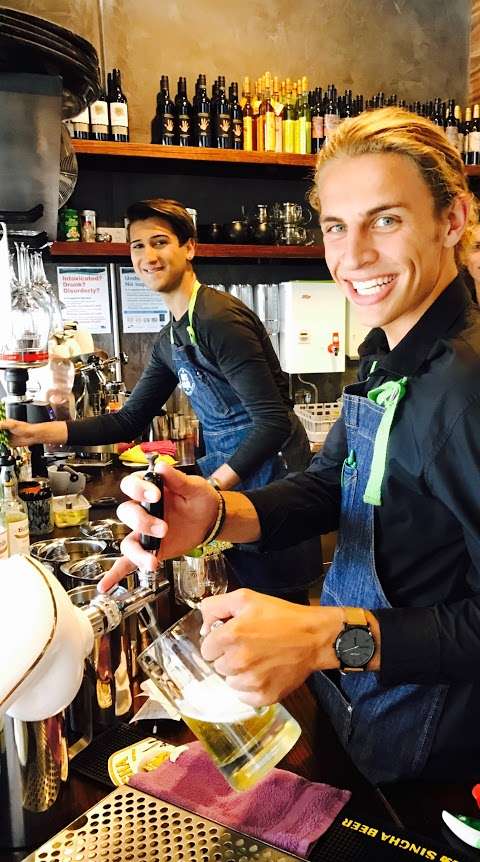 Reviews of Holy basil Thai
Ebony Added November 29, 2022

★ ★ ★ ★ ★

Went for an anniversary dinner, had a beutiful little note saying happy anniversary!
It was quick, thorough and efficient service, fantastic food choices to choose from, beautiful flavours! Staff are friendly & professional and the chef gets involved out on the restaurant floor and interacts with customers which is lovely to see!

Sharon R Added November 26, 2022

★ ★ ★ ★ ★

So very lucky to have this beautiful restaurant so close to home. We have visited on several occasions. The food is sublime and staff are attentive and friendly. We have made a pact with friends to eat our way through the entire menu it's that good. Do yourself a big favour and go to Holy Basil Thai as soon as you can!

Benita De Vincentiis Added November 18, 2022

★ ★ ★ ★ ★

We just had the most fantastic meal at Holy Basil. Each dish delicious, layers of flavour. So accommodating of dietary needs. Our waitress Am was the perfect mix of helpful and conversational yet also giving us our space. Every other team member was also great. Am and another lady jumped in so graciously and quickly when my father dropped a fork. Popped a new one on the table and didn't fuss with picking up the one on the floor, which supported him immensely in not over highlighting what happened. So thoughtful and gracious. We couldn't fault a thing, five stars all the way!

Sophie Margetis Added November 18, 2022

★ ★ ★ ★ ★

I highly recommend dinning at Holy Basil (or takeaway), the staff are all so lovely and accommodating. Each dish was an explosion of fresh produce and authentic herbs and spices. After my experience dinning here I can't wait to come back and try everything on the menu.
Definitely try the Pandan & Coconut Sago Pudding! It's everything you want and more.
Great Job Chef!

Karen Keefe Added November 06, 2022

★ ★ ★ ★ ★

I can highly recommend Holy Basil, the food was absolutely delicious and the staff were fantastic. My partner and I are vegetarian and vegan, and it was a pleasure to have such great options. Will definitely visit again.
Questions & Answers
1. What is the phone number for Holy basil Thai
The phone number for Holy basil Thai is +61 3 9725 7771.
2. Where is Holy basil Thai located?
Holy basil Thai is located at 1/66 Maroondah Highway Croydon, VIC 3136.
3. Is there a primary contact for Holy basil Thai
You can contact Holy basil Thai by phone using number +61 3 9725 7771.
4. What is the web address (URL) for Holy basil Thai
The website for Holy basil Thai is holybasilthai.com.
Share this page
Additional actions
Today's weather in Croydon VIC
13:00
18 ℃ 1009 hPa 64 % 2 m/s 16:00
18 ℃ 1011 hPa 62 % 2 m/s 19:00
15 ℃ 1013 hPa 77 % 2 m/s 22:00
14 ℃ 1013 hPa 79 % 1 m/s
Tomorrow's weather in Croydon VIC
01:00
14 ℃ 1012 hPa 81 % 0 m/s 04:00
13 ℃ 1012 hPa 86 % 1 m/s 07:00
13 ℃ 1012 hPa 91 % 1 m/s 10:00
14 ℃ 1012 hPa 96 % 1 m/s 13:00
15 ℃ 1011 hPa 96 % 1 m/s 16:00
16 ℃ 1009 hPa 92 % 1 m/s 19:00
15 ℃ 1011 hPa 95 % 1 m/s 22:00
15 ℃ 1012 hPa 97 % 1 m/s